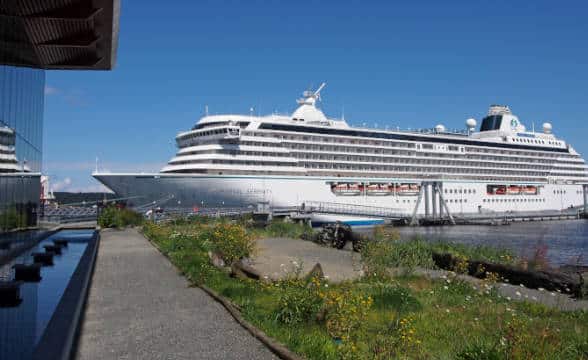 In Summary:
The ships owned by failed operator Crystal Cruises will face auction in the Bahamas on June 7The vessels have some hope of attracting a buyer despite lingering uncertainty in the industryFive more ships and a myriad of additional assets are also about to be auctioned
Image Source: Shutterstock.com
Crystal Symphony and Crystal Serenity, the two largest cruise ships belonging to operator Crystal Cruises, will be auctioned off on June 7. The authorities seized the vessels not long after parent company Genting Hong Kong defaulted on its loans.
The Two Vessels Are Old but Retain Much of Their Original Value
The company is yet another name among a long list of cruise operators which failed during the Pandemic. As a result of the huge supply and middling demand, sales of cruise ships during the past two years have rarely fetched more than their scrap value. However, Crystal Symphony and Crystal Serenity appear to have attracted some potential interest and may avoid the scrapyard. The trading value of Crystal Serenity (built 2003) is set at $87.4m, while the older Crystal Symphony (built 1995) is valued much lower at $18.2m.
A potential limiting factor for the purchase would be the age of the vessels. However, they have been refurbished extensively in recent years, and inspections confirm that they have received expert maintenance. Ultimately the banks that hold the mortgages are the ones who will decide the outcome of the auctions. If the bids are deemed to be too low, the ships will likely go to India for recycling to recoup at least some of their value.
Genting and Its Daughter Company Are Getting Dismantled with Ruthless Efficiency
Crystal Cruise also possesses several other vessels which are also starting to attract interest. The most impressive is the top-notch 20,500-gt, 200-berth polar-classed expedition cruise ship Crystal Endeavor (built 2021). She was seized in South America and later repositioned to Gibraltar, where she remains. The failed operator also owned four smaller European river cruise ships, a luxury charter jet, and substantial additional assets like its marketing database. A Florida auction ending this week aims to sell off the contents of Crystal's offices and warehouse. Items on the bidding list include fancy furniture, computer screens, and even pallets of playing cards.
Genting Hong Kong, the parent company which owns Crystal Cruise, recently failed to sell what was reportedly the world's largest cruise ship- the Global Dream. The vessel was still under construction when the company went under and was about to be bought by Sweden-based Stena Group. However, the deal fell through after Stena has declined a loan amidst concerns over the still uncertain state of the cruise market in Asia. After the still-in-construction ship is eventually sold, the provisional liquidators will also likely attempt to auction off the shipyard itself. An ignominious end to yet another previously prominent cruise operator.