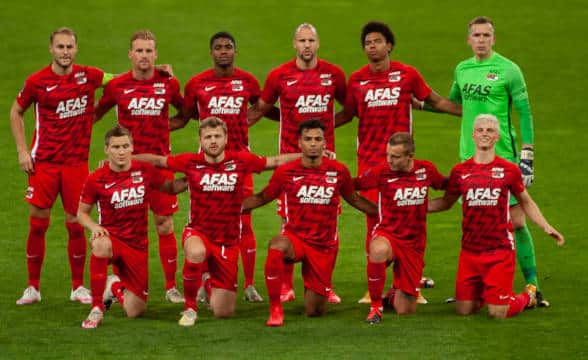 In Summary:
The Play North brand will display its logo on the AZ shirts for four seasonsKansino was one of the first operators to get a Dutch license and the first to sponsor a prominent sports team in the NetherlandsAZ Alkmaar will focus on its social initiatives and try to attract additional sponsors
Image Source: Shutterstock.com
Beginning July 2022, Kansino will be the new main sponsor of the Dutch football club AZ Alkmaar. The logo of the gambling operator will be visible on the front of the AZ shirts for the next four seasons. This deal marks the first such sponsorship change in twelve years. The team's previous partner, AFAS Software, will remain associated with the club as the stadium's namesake for the next three years.
Kansino Seized the Initiative by Being One of the First Licensed Gaming Companies in the Netherlands
iGaming company Play North created the Kansino brand to solely service the Dutch market after the operator secured one of the first gambling licenses in the country. It is now the first gambling company to sponsor a club in the Eredivisie- the highest level of professional football in the Netherlands. CEO of Play North, Klas Winberg, expressed his excitement regarding the new partnership.
"We are convinced that with extensive partnerships such as this, we can give Dutch sport an extra boost," he stated. Winberg added that the deal would increase brand awareness for Kansino, which would help promote safe gambling. The CEO expressed his opinion that the regulated gaming market would offer consumers better protection.
Robert Eenhoorn, General Director of AZ, called Kansino a modern and ambitious company similar to the football club in its dedication to future growth. He described the collaboration as a solid foundation for the future and expressed his optimism that the deal would give AZ "the space to take another step in its ambitions." Eenhoorn also drew attention to Kansino's effort to contribute to the club's social objectives.
AZ Alkmaar Will Invest More in Its Social Initiatives through Its New Foundation
Kansino and AZ will have a joint contribution to the newly created "Alkmaar Zaanstreek Foundation," which will focus on the club's social endeavors. Shirts for fans under the age of 18 will feature the logo of this new foundation. Eenhoorn stated that the joint initiative would support several soon-to-be-revealed social initiatives. AZ pledged to contribute to the foundation for each shirt sold in addition to its initial pledge.
AZ has recently focused extensively on attracting sponsorships. Logistics service provider CTS Group has become a naming partner for the club's youth academy. AZ reportedly also signed a pre-contract with Unibet last year. The gambling operator recently received a license to operate in the Netherlands, but it remains unclear how the deal with Kasino will affect the negotiations. The football club has not yet responded to inquiries regarding this matter.