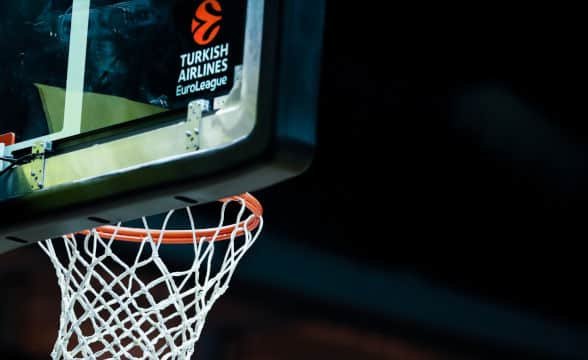 In Summary:

IMG Arena has extended its partnership with Euroleague Basketball to continue to distribute sports dataIMG Arena is leveraging the official Euroleague Basketball data with sports betting companies The company and league are happy to be collaborating in this extended format and bring more relevant data and coverage

Image Source: Depositphotos.com (Photo by Michele_Morrone)
IMG Arena is expanding its partnership with Euroleague Basketball, building upon what is already a long-term collaboration between the two entities. As a result, the deal will also cover live game data from over 500 matches played during the Turkish Airlines EuroLeague and 7DAYS EuroCup.
IMG Arena to Distribute Even More Data to Partners
The extended collaboration will enable IMG Arena to continue delivering on highly valuable data assets across its network of partners globally and power sports betting experiences by feeding the right data to sportsbooks.
Euroleague Basketball has been able to cultivate a diverse audience and significantly increase its reach with sports fans. There has been a 75% increase in TV viewership, the press release reported, with 20% more social media followers, and another 25% uptick in online viewership.
Commenting on the renewed partnership, Euroleague Basketball chief business officer Roser Queralto said that IMG Arena is a leader in the distribution of sports content and the organization was happy to be collaborating with it in this renewed partnership form:
"This is a significant commercial partnership that helps grow the game with thrilling content reaching new audiences and driving fan engagement around the world."
Euroleague Basketball chief business officer Roser Queralto
IMG Arena EVP and managing director Freddie Longe welcomed the opportunity on a similarly positive note. Longe said that he was happy that IMG Arena would be able to extend its partnership with Euroleague Basketball once again.
IMG Arena Remains at Forefront of Sports Integrity and Data
He reaffirmed Euroleague Basketball's place in the global sports betting ecosystem and added that the strengthened partnership was a testimony to how important the tie-up was for both parties in a purely commercial sense.
IMG Arena recently joined IBIA's list of partners committed to tackling corruption in sports. IBIA has been actively looking to secure ties with data companies that can help the organization address issues with the integrity of sports through the collection of big data and flagging potential issues with betting.
IMG Arena has also made strides in golf this year, acquiring the distribution rights for the PGA Championship and  LPGA Tour.