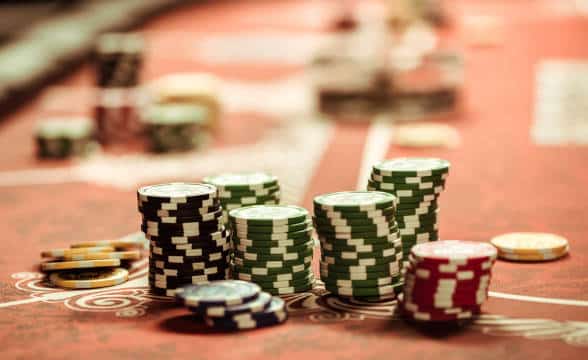 In Summary:

GGPoker released details regarding new tournament series dubbed 2022 Road to VegasExciting awards await tournament winnersOnly recently, the poker room inked a sponsorship deal and confirmed that it will keep Dan Bilzerian as brand ambassador

Image Source: Depositphotos.com (Photo by ArturVerkhovetskiy)
The leading online poker room, GGPoker, announced the launch of its new 2022 Road to Vegas tournament series. Multiple online tournaments will grant poker players a chance of winning exciting prizes and even a chance of participating in the 2022's World Series of Poker (WSOP) Main Event.
The 53rd annual WSOP poker series starts on May 31 and will run through July 20. The events will be taking place at Bally's and Paris in Las Vegas, Nevada. WSOP's $10,000 Main Event is scheduled to start on July 3 with its final table set for July 16.
Exciting prizes await winners of GGPoker's Road to Vegas tournament series. Those prizes include:
$10,000 entry into the WSOP Main Event7 night stay at Bally's Las Vegas Hotel and Casino$1,200 for round trip tickets to Las Vegas
Tournament winners will be able to enjoy further prizes such as entry to GGPoker's Last Longer promotion. Additionally, the lucky poker fans will gain access to an exclusive GGPoker Platinum Lounge and receive GGPoker-branded merchandise and gifts. To win a WSOP package, players must be aged 21 or above.
According to GGPoker, tournament winners that cannot attend the 2022 WSOP Main Event will be offered to receive the tournament buy-in which is $10,000. If there are players that have won more than one 2022 Main Event Qualifier Package, they will be offered the $10,000 tournament buy-in. GGPoker revealed that selling or transferring the WSOP Main Event seat is not possible.
GGPoker Made Multiple Announcements Recently
The announcement about the tournament series comes after late last month, GGPoker shattered rumors by confirming that it will keep Dan Bilzerian, the famous influencer and poker player, as brand ambassador. The poker room acknowledged that its partnership with Bilzerian has been successful and that the collaboration will continue.
Additionally, back in March, GGPoker unveiled details regarding a new sponsorship deal with Triton Poker. The poker room agreed to sponsor Triton Poker's Cyprus Special Edition event that launched on April 2 and will go through April 7 at the Merit Hotel and Casino in Cyprus.