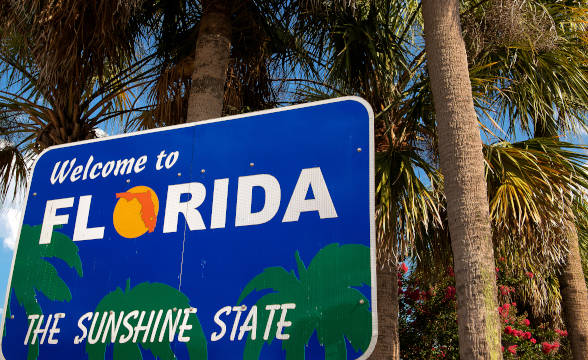 In Summary:
Since last summer Florida has seen a couple of failed attempts to launch legal sports bettingA sports betting initiative never got to the ballots and a gambling compact was invalidated by a district judgeTwo appeals against the judge's decision are ongoing but will not be resolved until 2023
Image Source: Shutterstock.com
Sports betting in Florida will not be legalized any time soon. According to the schedule announced by the US Court of Appeals, a case regarding a tribal compact will drag on until at least the end of 2022.
Sports Betting In Florida
There have been a few attempts to legalize sports betting in Florida since last summer but none of them were successful. Firstly, there was a major sports betting initiative for the state of Florida, funded by the prominent sportsbooks FanDuel and DraftKings. Despite a strong campaign, the initiative failed to collect enough signatures to qualify for the ballot in November 2022, which means that Florida voters will not be able to have a say in the launch of the legal sports betting market in the state.
The second attempt came really close to fruition. Back in April 2021, Gov. Ron DeSantis signed a compact with the Seminole Tribe, which included a variety of agreements. Besides allowing for a larger number of tribal casinos on tribal land, the compact also allowed for sports betting to be offered in the state. According to the deal, the Seminole Tribe would have functioned as a focal point for betting providers having exclusive rights to offer these services to players in the state with both online and retail sports wagering being allowed. The collected taxes from this new venture would have amounted to 55% that would have gone to educational initiatives. However, back in November 2021, the compact was discarded by US District Court Judge Dabney L. Friedrich on the grounds that it violated the rules and regulations in the Indian Gaming Regulatory Act.
Appeals Against the US District Court Decision
The decision of the US District Court was met with discontent both from the Seminole Tribe and the Department of the Interior. Both parties filed separate appeals against the invalidation of the compact by judge Friedrich. Unfortunately, due to the sluggish United States Court of Appeals processes, there will be no decision in sight before 2023. The schedule regarding the Seminole Tribe appeal has been revealed by the US Court of Appeals with the Appellant's Opening Briefs scheduled from the end of August until the end of November. The court has not announced any dates regarding the oral arguments of the two parties.
In regard to the Department of the Interior, no details have been revealed on the government's proposed arguments against the rejection of the compact. The schedule for the appeal is similar to the schedule for the Seminole Tribe appeal with the dates for the opening briefs being very close to each other.