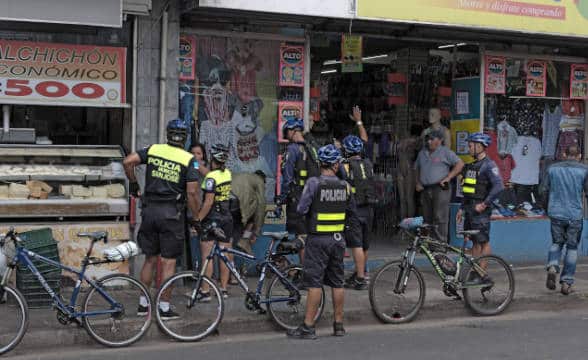 In Summary:
Costa Rica is proposing a different way to allocate gambling taxes to train and educate police officersPolice officers will be taught how to interact with civilians if the proposal passes legal scrutinyHowever, the proposal does not seem to focus on the more serious issue – police salaries
Image Source: Shutterstock.com
Costa Rica is looking at how to best make use of its gambling funds and the tax levies that apply to them. Now, Assemblyman Gilbert Jimenez believes he has an idea that will receive the approval of fellow lawmakers and resonate positively with the broader public. Jimenez wants a part of tax funds that sports betting operations and casinos to pay to go for the education of police officers.
Police Officers to Receive Additional Training
The idea is to give police officers the opportunity to improve their careers or specialize in different career paths altogether while being further incentivized to crack down on crime. The proposal is still a draft bill and is currently under review. If it passes, 50% of all gambling taxes collected will be allocated to the police force in each respective municipality where gambling operations are working.
There will be various end-goals that the funding is trying to achieve, including investment in development programs, citizen environment management, and a police approach. Essentially, officers will be learning more about how to interact with citizens and how to be better prepared to handle multiple situations out on the field.
The rest of the gambling tax will go to the cantons with the lowest social development index. This is part of the Ministry of National Planning and Economic Policy's to see Costa Rica overcome inequality and attempt to bolster the living conditions and career opportunities of older citizens. Gambling revenue can prove important for municipal budgets that seek to ensure that they have more funds at their hands to work around.
Salaries for Police Officers Still Below Living Conditions
But the planned changes will most likely not lead to an increase in police officers' salaries. They presently earn between $550 and $1,200 a month, notwithstanding currency fluctuations. This is a problem when the cost of living in Costa Rica is much higher, which means that police officers are making much less than what is required for a single person to live.
Some lawmakers are aware, though, that more taxes need to be slapped on gambling operators – or so they believe. A previous attempt to add more tax on lottery prizes was scrapped in the Committee on the Legal Affairs of Congress earlier this year. In the meantime, the new proposal seems like a good step in the right direction, but what police officers may need in the end is more money to tackle living expenses rather than professional training to interact with civilians.